Flight nursing is undoubtedly one of the most stressful nursing specializations out there. Sometimes to deal with this stress management they tend to rely on books. There are many books out there for flight nurses specifically. These books are written keeping in mind that, flight nurses will be able to relate to the stories with their lives.
Some of the books in the list are very inspirational (portraying stories from real life). While others are guides that might be useful for the current working and the aspiring flight nurses. The best of the five books are noted below –
1. Trauma Junkie: Memoirs of an Emergency Flight Nurse.
The book recalls the true stories of veteran flight nurse Janice Hudson. Her thrilling adventures from the take-off until the patients are delivered to the hospital. The book gives an overview of what the nurses actually feel during the agonizing minutes in the aircraft mid-flight.
In Trauma Junkie, readers accompany Janice Hudson as she races in response to emergency calls in the San Francisco Bay. Her workplace is a cramped California Shock Trauma Air Rescue (CALSTAR) helicopter. In which medical personnel tries to fix the human carnage wrought by shootings, accidents and natural disasters.
According to the Chief of Children's Hospital, Oakland, the book is "These fascinating true stories are impossible to put down". The library and the School library journal entitled the book as "An exciting portrayal of emergency nursing". As well as "Fast-paced nonfiction that reads like an adventure story."
2. Operation Flight Nurse: Real-Life Medical Emergencies
Life-Flight-Teams are called to transport those in need of critical medical care to an institution capable of managing their condition. On occasion, life-altering events can be prevented from ever occurring. In other words, measures can be taken by both patients and medical providers to reduce the impact these events have.
This book was written for two reasons. Firstly to enlighten those curious about the flight-nurse profession. Secondly to share some take home lessons from these medical emergencies with the public, nurses, and EMS providers. 
The author is an acute care nurse practitioner for the Cleveland Metro Life Flight Team. After being asked frequently about his career as a life-flight nurse, David Kaniecki decided to answer the question. He shared his more memorable experiences as a life-flight nurse, linking each story to a teachable event. In his book, he describes many of his exciting adventures of critical care transport with various emergent disease processes.
3. Cherry Ames, Flight Nurse
The book follows the journey of Cherry Ames who at that time was an army flight nurse. The book is based on the stories of her during the time the United States is still fighting World War II. The book recalls the heart-wrenching moments during the war when she and her corpsman Bounce–the two of them were given the responsibility to ferry the severely wounded soldiers out of the battlefield and to the nearest Army hospital.
They formed a joint party with Pilot Wade Cooper's chagrin, who at that time was in charge of the bomber duty. They worked together to fly the wounded soldiers out of the battlefield. The book gives insights into that horror time starting from every detail she felt or observed.
The book also portrays the story of 6-year-old Muriel Grainger, who at that time didn't have anyone left. Her mother was killed by the Germans and her father often run a shady business no one knew about. Cherry makes it her risky business to find out if this is truth or rumor.
4. Beyond the Call of Duty: Army Flight Nursing in World War II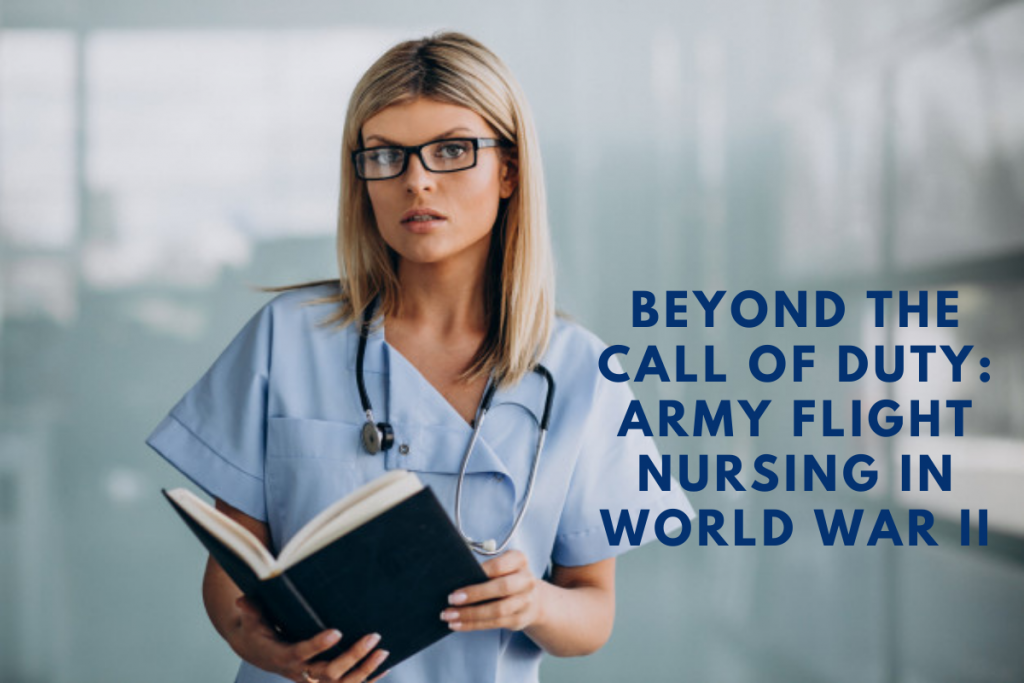 Another book on the list that portrays the stories during World War II. The book is written by Judith Barger who at that time was a flight nurse in the army. The book recalls the stories at the height of World War II when five hundred Army flight nurses served with the Army Air Forces.
At that time there were thirty-one medical air evacuation squadrons located throughout the world in both the European and the Pacific regions. These specially trained Army nurses took nursing to new heights; they exemplify the ability of a group of nurses to cope successfully with the challenges of war.
5. Cfrn Exam Flashcard Study System: Cfrn Test Practice Questions & Review for the Certified Flight Registered Nurse Exam
CFRN Exam Flashcard Study System uses repetitive methods of study to teach you how to break apart and quickly solve difficult test questions on the Certified Flight Registered Nurse Exam. Study after study has shown that spaced repetition is the most effective form of learning, and nothing beats flashcards when it comes to making repetitive learning fun and fast. Our flashcards enable you to study small, digestible bits of information that are easy to learn and give you exposure to the different question types and concepts.
CFRN Exam Flashcard Study System covers: Cardiopulmonary Emergencies, Basic Steps in Pericardiocentesis, Performing Defibrillation, Signs of Pericardial Tamponade, Stages of Hypoxia, True and False Aneurysms, Four Types of Cardiovascular Trauma, Signs of Respiratory Failure, Risk Factors for Bradycardia, Recommended Treatments for Atrial Tachycardia, Three Types of Angina, LOCK Protocol, Steps Complications Related to Breach Presentation, Tocolytic Therapy, Managing Preeclampsia, Supplying Oxygen to a Neonate, Inserting a Nasogastric Tube, Nine Types of Fractures, Principles of Splinting
Diagnosing Compartment Syndrome, Assessing Cranial Nerve Function, Performing a Spinal Immobilization, Assessment Criteria for Seizures, Three Ways of Monitoring Intracranial Pressure, Categories of Reflex Responses, Common Causes of Ear Drainage, Escharotomy Procedure, Rule of Nines Method, Differentiating Burn Degrees, Treating Hypothermia and Frostbite, Symptoms of Hypoglycemia and Hyperglycemia, Managing Fever and Dehydration, Universal Precautions for Infection Control, Complications of Sickle Cell Anemia, Three Causes of Thrombocytopenia, Evaluating Pain Levels, Airway Assessment, Indications for Patient Transport, Components of Complete Blood Count, Four Types of Spinal X-rays etc.
There are some other inspirational books that would surely be very useful for all the nurses' community. If you want to know about them then don't forget to check out our another blog on 'Inspirational Books for Nurses'.