What could be more challenging and exciting! Providing critical care to patients in
dire condition at a highly unstable transport environment or providing day to day
care in a hospital or a clinic? Well, you know the answers to these sorts of
questions yourself. But to reach such a level, a nurse has to go through
unimaginable hurdles and training. Not to mention a strong educational
background as well.
Flight nursing is not actually any formal nursing school degree a nurse can pursue.
It is a specialized field of nursing one can pursue through various certifications an
training, especially for military flight nurses. A military flight nurse has to go
through much rigorous training than a civil nurse. That is because the flight nurses
usually end up healing and treating wounded soldiers from the battlefield.
However, there is a proper educational and professional track to follow in order to
prove your competence in the field. In order to become a flight nurse, a nurse must
have a bachelor's degree in nursing (BSN). An MSN degree is not mandatory but it
is preferred by many aviation agencies and hospitals.

Aviation agencies, hospitals and the military prefer the Emergency nurses (ED) the
most. In the ED, a nurse is taught to manage a constantly changing patient who
might either be suffering from a wide variety of mild conditions or life-threatening
traumas. In an ED, RNs learn to sink or swim. They are always working with
emergency patients who require emergency treatment. In this case, the ED nurses
have to make split-second life-changing decisions based on their personal nursing
judgment. If a nurse is able to survive this for at least a couple of years. THEN they
are well eligible to be a flight nurse.
Required Certification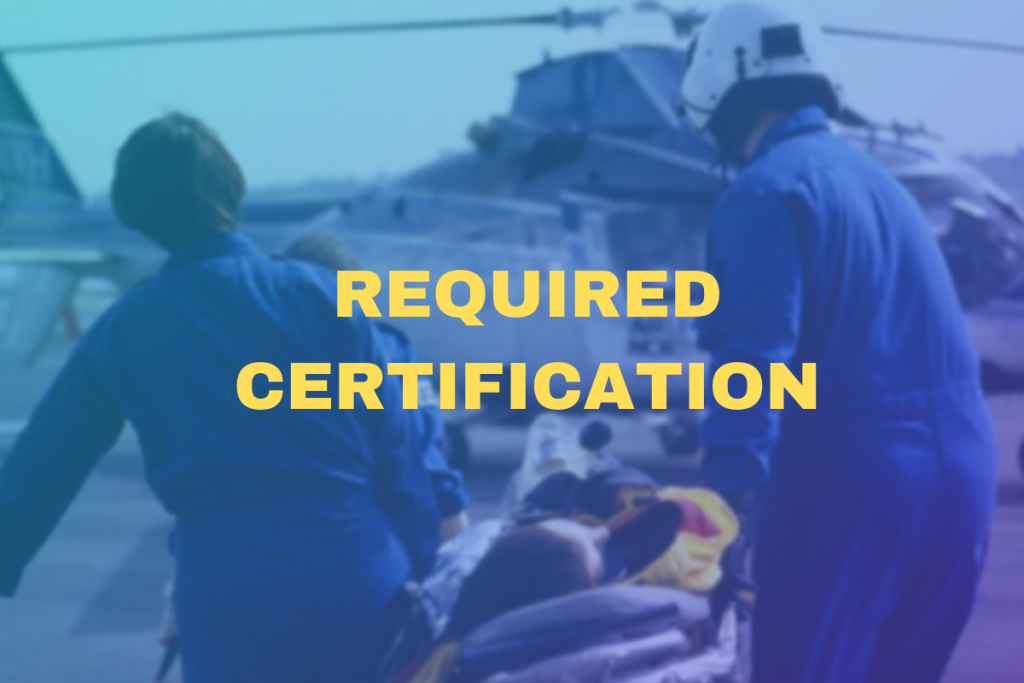 While there is no end to learning, some of these certificates/courses will give you
the edge over other employees. You'll be able to demonstrate your competence in
flight nursing to your prospective employers. It is not mandatory to complete all of
them. However, doing some of them will definitely put you in the front row.
Stronger the background, stronger your chances of demanding more, i.e. salary or
other benefits.
 Certification in CFRN (Certified Flight Registered Nurse) from the Board of
Certification for Emergency Nursing (BCEN).
 Completing Nationally recognized trauma program such as Pre Hospital
Trauma Life (PHTLS)
 Critical Care Certification (CCRN)
 Certified Emergency Nurse (CEN)
 Basic Trauma Life Support (BTLS) or Trauma Nurse Core Course (TNCC)
 Transport Nurse Advanced Trauma Course (TNATC)
 Neonatal Resuscitation Program (NRP)
 Certification in Basic Life Support (BLS).
Important Credentials:
 Certified Emergency Nurse (CEN)
 Certified Flight Registered Nurse (CFRN)
 Critical Care Registered Nurse (CCRN)
Online Flight Nurse Programs
Even though flight nursing is a demanding specialization in the field, there is no
specific degree targeted towards the specialization. Most nurses have their BSN &
MSN degree with some certification done from various institutes. In addition to
practical experience in any specialized nursing field.
Below is a list of comprehensive online programs targeted towards the aspiring
nurses who are aiming for flight nursing. All the programs are fully accredited but
the quality of each program varies depending on the School. Before choosing your
desired program, always make sure to do a background check of the school, to check
whether they have a viable accreditation status or not.
Institution Program
American Sentinel University RN/BSN
Arizona State University RN/BSN
Western Illinois University RN/BSN
Weber State University MSN
Cedarville University MSN
Ursine College RN/BSN
Eastern Kentucky University RN/BSN
University of Central Florida MSN
Frontier Nursing University MSN
University of Arizona MSN
Jefferson College of Health Sciences BSN: Post-Licensure Track
Sacred Heart University RN-MSN/BSN-MSN
Maryville University MSN
Hope this was helpful for you! IIf you want to know more about Flight Nursing, Salary, and Job Requirements then check out our another blog on it.